Spring PIL Awards and Champions Ceremony
The 2010 PIL Hall of Fame Celebration of Champions was held in the Tiger Woods center on the Nike campus on Sunday, May 23.
This is the occasion on which outstanding PIL scholar/athletes and PIL coaches are honored and recognized for their contributions to the entire PIL athletic program.
Sportspersons of the Year Award:
Benson: Noelle Phan, Jeff Wallberg
Cleveland: Katey Barger, Nelson Franks
Franklin: Julia Fonk, Harry Bayley
Grant: Jenny Lutton, Kenneth Acker
Jefferson: Ariel Reynolds, Terrence Jones
Lincoln: Jennie Archambault, Emiliano Haynes-Caldera
Madison: Katie Pagh, Mike Huynh
Marshall: Maggie Haworth, Abraham Cabatic
Roosevelt: Ahoefa Ananouko, Roman Thompson
Wilson: Morgan Beltz, Travis Lang
Athletic Director of the Year: Scott Aker, Wilson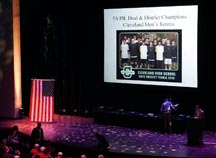 E. Paul McCall Head Coach of the Year for men's sports: Laura Tyrell, Grant
Other nominees: Benson – Anthony Davis, Cleveland – Casey Dyer, Franklin – James Hennessey, Jefferson – Ikeya Newton, Lincoln – Rob Herder, Madison – Jeff Niebergall, Marshall – Tom Hewitt, Roosevelt – Vanessa Crock, Wilson – Bill Boly.
Marsha Richard Coach of the Year for women's sports: Ikeya Newton, Jefferson
Ron Pheister Assistant Coach of the Year: Kenneth Bibles, Cleveland
Other nominees: Benson – Christian Dan, Franklin – Jacob Michaels, Grant – Eric Miller, Jefferson – Dale Baugh, Lincoln – Phyllis Zeck, Madison – Nick Koping, Marshall – Jonathon Nussbaum, Roosevelt – Brinton Smith, Wilson – Amy Bell.
Robert Blanchard Distinguished Outstanding Service Award: Jack Bertell